I've been wanting to watch Jane Eyre ever since it came out, and since I recently finished reading the book, I thought it a good time to watch it.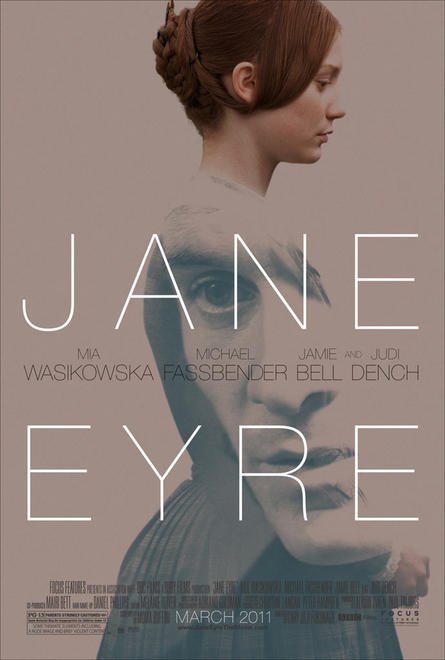 And it was a good movie, very beautifully made, but it didn't quite live up to my expectations.
But let me start with the things I like, such as the casting:
I was a little apprehensive about the casting of Jane, for in the book she is very plain and Hollywood have a habit of ignoring that and casting beautiful actresses anyway. But they actually did a great job with Mia Wasikowska, making her appear really simple and plain.
And her acting was also really good. I think a challenge in adapting book-Jane is that she thinks a lot but doesn't say very much, so the actress really have to convey a lot without words. But I think she caught the gist of it, and the important scenes were spot on.
Now, for Mr Rochester. Let me get my major peeve about him out at once: Michael Fassbender is way too handsome to play Mr Rochester!
That being said, he does a great job of the character. He certainly masters the piercing gazes and intense emotions. I'm just sad they cut out a lot of his and Jane's interactions, it didn't leave enough scenes to really get a feel of his character.
Judi Dench playing Mrs Fairfax was a delightful surprise (and my one squeeing moment of the movie, was when she appeared). She wasn't exactly like I imagined Mrs Fairfax in my head, but she made a great performance.
The casting of St John Rivers was just perfect, in my opinion. In my head I'd imagined him more like Rupert Perry-Jones, but Jamie Bell was an excellent alternative. My only regret is that due to time, large parts of his character is cut out, so he seems rather one-dimensional in the movie.
With all this praise of the acting, you might think, then why was I disappointed in the movie?
The main reason is that the plot is way too rushed! Some of the time it feels like they are giving you a summary of the story with a number of short scenes. Then at other times they cut out huge plot points and dialogue, and I feel like you miss a lot of information.
I know I can't expect a 2 hour movie to be completely faithful to a 600 pages book, but they could easily have made it perhaps 20 minutes longer and gotten a lot more of the plot in there. At least in my opinion.
However, I think my strong reaction is due to the fact that I just finished the book and was anxious to see it acted out on screen. I think I would have loved it unconditionally if I hadn't read the book.
And therefore I will in no way discourage anyone from seeing it, for it is a wonderful story.
Content wise there is barely any. There is a few kissing scenes and you once see the characters in their sleep wear, but nothing inappropriate.
You know, I couldn't possibly review a period drama without commenting on the costumes.
I love them!
Jane's dresses are very simply cut, but I think that is what I like about them. These are the sort of dresses I wouldn't mind wearing myself.
This one is my favourite! I love the pattern and the little collar.
It was difficult getting a decent picture of this one, but here you can see the lovely little bows at the front.
Now, as we draw near the end I think my final conclusion is: It's a beautiful movie with lots of good acting, and a timeless story that most will enjoy.
But if you've read the book, expect that a lot of scenes will be missing.