I had originally planned this post to be a long list of all my favourite 40's movies where I rambled on about how brilliant they were.
The ramblings will definitely still be there, but when I started listing the 40's movies I've seen, I realised that I actually haven't seen that many, so the list won't be as long as I expected.
But without further ado, these are the 40's movies I've seen and enjoyed:
State Fair
This is one of my favourite movies of all time!! It's so sweet and delightful and just too grand for words to describe it properly!
The story is fairly simple, following a family going to the annual state fair where the grown up children each find some romance along the way. Add in some catchy songs and an extravaganza of pretty dresses, and you've got yourself a hit.
I wrote a post about the wardrobe of the main character
here
if you want to see some of the costumes.
To Be Or Not To Be
Another one of my favourites! This is one of the most hilarious movies I have ever seen.
Taking place during WWII where the Polish underground movement is trying to stop a double agent giving information to the Germans, it does have its suspenseful and dramatic moments. But it gives way more laughs than shivers. I'll do a proper review of this movie later this week, where I will talk way more about all the funny scenes.
Anchors Aweigh
Here's another gorgeous movie with pretty dresses, happy songs and dancing sailors. What more can anyone wish for? To be honest this was the movie that made me fall in love with the 40's, and thus indirectly started all this.
The movie's about two sailors on shore leave. They meet a girl that they somehow promise to introduce to Jose Iturbi (someone famous in the music industry), who they don't actually know. So they spend the next day partly searching for and trying to meet Jose Iturbi and partly keeping the girl convinced that she really shall meet him.
A really funny and sweet movie all in all.
On The Town
It seems I have a weakness for Gene Kelly and Frank Sinatra musicals! On The Town is another lighthearted and fun movie following 3 sailors at shore leave trying to meet some girls, and singing all the while.
The songs are really catchy, the costumes pretty and the story really sweet. For more of my thoughts on this move check out my full review of it
here
.
His Girl Friday
Here's another lovely comedy. The story of a newspaper editor who learns his ex-wife is about to remarry, and tries his best to sabotage it by getting her to cover a hot news story, so he won't lose his star reporter, is certain to create more than a few laughs.
And though it's not as hilarious as its 80's remake, it is still a delightful movie with some real quality acting from Cary Grant.
Casablanca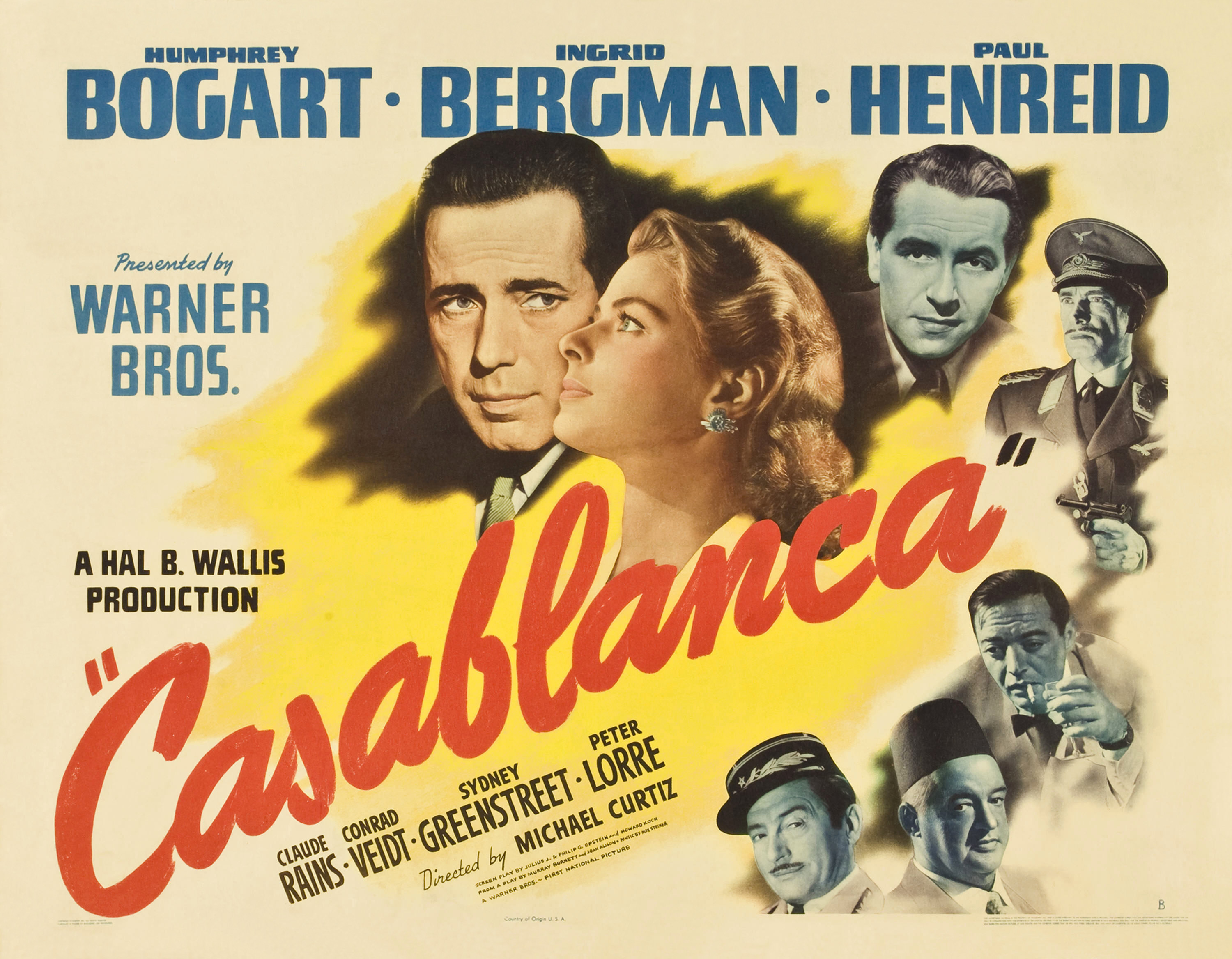 This movie really surprised me positively. I had expected it to be extremely dull, and though it is kind of slow going, as dramas often were back then, it's actually a really good movie.
The story of a bitter bar owner who by chance meets his old flame and her husband, asking for his help in fleeing the country, is surprisingly touching and the actors all do a very good job.
It's A Wonderful Life
To think that I nearly forgot this one on my list! If this isn't a true classic I don't know what is!
The timeless story of a man spending his life fighting for others and who at a low point in his life is shown what the world would be like if he had never been born, is so touching and heartwarming. I think it's one of the movies everyone have seen at least once (and if they haven't they should).
That is the 40's movies I've seen and enjoyed this far, but there's so many more movies from that decade that I am dying to see.
Did you see some of your favourites on this list? If not, which movies do I need to watch?
I always love getting recommendations!